Popular Services
Oil & Filter Changes
Mastermind Enterprises offers oil changes from a basic 3,000 mile oil change to a premium 5,000 mile oil change with BG MOA to a 10,000 mile synthetic oil change.
Transmission Services
Mastermind Enterprises offers a simple drain and fill service, transmission flushes, gasket and filter changes and transmission replacement.
Brake, Power Steering & Coolant Flushes
Mastermind Enterprises offers flushes for your brake system, power steering system and coolant system.
Tune-Up
Mastermind Enterprises offers complete tune-up services from spark plug replacement to complete major tune-ups.
Pre-Purchase & Safety Inspections
Mastermind Enterprises offers vehicle inspection services from pre-purchase inspections before you purchase a vehicle to regular safety inspections for the life of your vehicle.
Scheduled Maintenance
Mastermind Enterprises offers vehicle maintenance services, including factory scheduled maintenance and custom service options.
Brake Service & Repair
Mastermind Enterprises offers brake service and repair in Denver, including brake flushes, brake pad and rotor replacement, and complete system re-builds.
Timing Belts & Timing Chains
This is your vehicle's most critical component. We have the tools, equipment, and experience to do it right – the first time with the highest quality parts available. Taking care of your timing belt or timing chain saves you costly engine damage down the road.
Steering & Suspensions
Mastermind Enterprises offers service and repair for steering and suspensions, including shocks/struts, ball joints, tie-rod ends, and rack and pinion/steering gear replacement.
Saturn Auto Service & Repair in Denver

Are you looking for a well-respected, honest, Master ASE Certified Saturn auto repair and service shop in Denver because you aren't happy with your service from your Saturn dealer, current independent auto repair shop, or you've recently relocated?
Check out our family owned and operated auto repair shop, Mastermind Enterprises, in Denver, Colorado first! Check out our customer testimonials and determine if we are the right choice for auto repair and service for your Saturn vehicle in Denver. We offer a 24 Month/24,000 Mile Nationwide Warranty, too.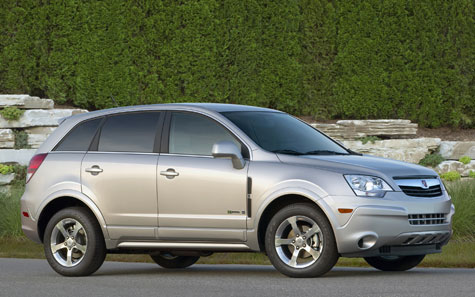 Mastermind Enterprises can service your vehicle just like the Saturn dealer with a professional ASE Master Certified Technician! We can maintain your vehicle's factory warranty by performing factory scheduled maintenance and save you money, too! Mastermind Enterprises offers a flat-rate towing service through our towing partner. We also provide customers with rental cars in addition to our comfortable waiting room.
Computer Diagnosis
Engine Diagnosis & Repair

Brake Service & Repair (ABS)

Scheduled Maintenance
Filter Changes (Oil, Fuel, Air, Cabin)
Noises, Leaks
Brake Service & Repair
Starting & Charging Systems
Belts & Hoses

Oil Changes

Heating System
Service & Repair

Cooling System Service & Repair

Timing Belts & Timing Chains

Water Pumps

Radiators

Fuel Pump & System Service
Steering & Supensions

Ball Joints & Bushings

Shocks & Struts

Axles & Wheel Bearings

Belts & Hoses

Differential Repair & Replacement

Transmission Fluid Flushes

Transfer Case & Differential Service

Fluid Level Checks
Safety Inspections

Pre-purchase Vehicle Inspections

Tune-Ups

Engine Repair & Replacement

Emissions Diagnosis & Repair
Clutch & Clutch System Repair

Air Conditioning Service & Repair

Transmission Service & Replacement

Fuel Injection Service with BG 44K
Electrical System Diagnosis & Repair
Batteries & Alternators
Customer Reviews & Testimonials
Read our customer reviews on our testimonials page. After reading them, determine if we are the right choice for the auto repair and service of your Saturn vehicle. Mastermind Enterprises has been serving the Denver Metro Area's auto repair service needs since 2002. We are a full service auto repair shop for Saturn vehicles, including auto service, auto repair and much more!

If you are in Denver, try us and see how easy Saturn auto repair service can be!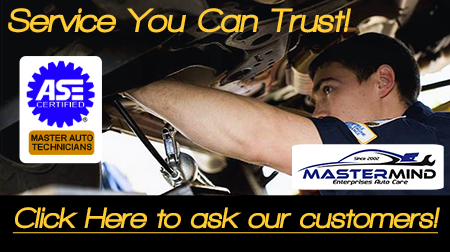 From your initial phone call, until you pick up your car, we take the time to explain what is wrong and what repairs are needed. All the work that needs to be done is separated from the work that can wait or is nonessential. We can explain the options and make specific auto repair recommendations. We also explain all parts and labor charges, and if applicable, list the work that you should plan on having done at a later time. We know that your vehicle plays a vital role and an intricate part in your daily life. Therefore, we minimize your vehicle's and your "down" time. In most service and repair cases, same day or next day auto repair and service is available (subject to parts availability).
At Mastermind Enterprises, we believe that the more efficiently we run our shop, the better service we can provide to you, our customer. We stand behind all work that we perform. We also offer our customers a 24 Month/24,000 Mile Nationwide Warranty on most repairs. If an additional warranty applies to a part, Mastermind Enterprises will honor the manufacturer's warranty as applicable. Warranties will be explained to you upon request and/or at time of your auto repair.
For an appointment or estimate, click here.
Call us today at 303-297-2886 or come on by.

We look forward to serving you and your vehicle soon!