Why is Maintenance Important for my vehicle?
Most auto owners change their car's oil every 3,000 miles or so, but forget or are unaware of some critical areas of their car's needs. In fact, the most expensive maintenance task is an oil change. At around $35 every 3,000 miles you would spend $350 in oil changes for every 30,000 miles. On the other hand, a transmission service is around $175 and should be done every 30,000 miles. That is only half of what your costs are for oil changes in the same period of time.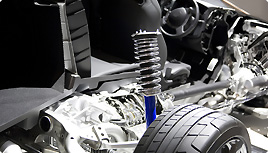 Most cars and light trucks have maintenance schedules in the owners manual, but they vary little between makes or models, most often operator use is the noticeable variable. Extreme driving conditions such as starting and stopping, in-town use or towing are examples that require maintenance needs more often than average or normal use.
Weather and temperature are also a big concern. Living in Colorado, most vehicles are driven in extreme cold and hot conditions. During winter, at below-zero when you start your engine, think about this, all fluids are at or below 0 degrees. During your car's operation oil, transmission fluid, power steering fluid, coolant and differential fluid temperatures rise quickly causing breakdown of additives that turn into harmful varnish or sludge deposits. Now, imagine doing this every day and think of the heat cycles your car or truck goes through (literally thousands!).
Most maintenance items are under $150, that's a lot cheaper than the average auto repair. Let the professionals at Mastermind Enterprises inspect your car to recommend what maintenance items your car needs most and save you on your auto maintenance.
Mastermind Enterprises features
BG Products and Services.



We insist on the best for you and your vehicle!

Complete Computer Diagnostics
Complete Safety Inspection & Analysis
Drivetrain & Drivability Problems
Oil Changes & Scheduled Maintenance
Brake Service & Repair
Steering and Suspensions
Transmission Service & Replacement
Engine Repair & Replacement
Maintenance & Tune-ups
Cooling System & Radiator Service
Heating & Air Conditioning

METV Automotive Videos
Why Mastermind Enterprises Auto Repair Shop in Denver recommends replacing the timing belt and water pump BEFORE the manufacturer recommend interval of 90,000 - 105,000 miles on certain Chrysler and Mitsubishi vehicles.
This timing belt video applies to ALL Chrysler vehicles with the 2.0 and 2.4 DOHC 4-cylinder engines, such as the Mitsubishi Eclipse, Chrysler Sebring, Chrysler PT Cruiser, Dodge Neon and more!
Why Mastermind Enterprises Auto Repair Shop in Denver recommends replacing the timing belt and water pump BEFORE the manufacturer recommend interval of 60,000 miles on certain Hyundai vehicles.
This timing belt video applies to ALL Hyundai vehicles with the 2.7L V6 engines, such as the Hyundai Santa Fe, Hyundai Sonata, Hyundai Tiburon, Hyundai Tucson and more!
Why we at Mastermind Enterprises Auto Repair Shop in Denver recommend having your vehicle checked anytime there is abnormal noises or lights on. This Jeep Grand Cherokee had a water pump failure at only 39,309 miles! We have never seen a vehicle's water pump fail at such a low mileage!
This vehicle went into limp in mode with multiple warning lights going off and engine noise. Luckily for our customer, the water pump is covered under Jeep's Powertrain Warranty. Don't ignore lights on your dash or warning notices!
Mastermind Enterprises is your Authorized BG Service Center in Denver. BG Products and Services are dedicated to making vehicles last longer and perform better. BG creates top of the line automotive fluids and automotive maintenance service products capable of handling higher temps better and for longer, without breaking down. This means longer periods between fluid changes and more longevity for the life of your vehicle.
From oil changes and transmission flushes to air induction services and radiator flushes, Mastermind Enterprises has you covered! Depending on the mileage of your car, your vehicle may qualify for BG's "Lifetime Protection Plan", too.
What Mastermind Offers
Mastermind Enterprises is a Master ASE Certified Family Owned Auto Repair Shop in Denver, Colorado. We provide you with a number of benefits, the most important being integrity. We provide honest service and quality you can trust in the automotive industry.
Maintaining and repairing your vehicles is a pleasant experience when you deal with auto repair professionals. Mastermind Enterprises aims to make your auto experience an enjoyable one, each and every time you visit our shop. We recommend a preventive maintenance program that is right for each vehicle you own, saving you time and money. Bring your vehicle in to Mastermind Enterprises for an inspection and estimate on your vehicle's specific maintenance needs.
| | | |
| --- | --- | --- |
| Service | Mileage* | Cost* |
| Fuel Filter | 24,000 - 30,000 | $60-80 |
| Transmission Service | 30,000 | $175-195 |
| Oil & Filter Change (LOF) | 3,000-5,000 | $49-$69 |
| Brake Flush | 60,000 | $75-$125 |
| Power Steering Flush | 60,000 | $55 |
| Cooling System Flush | 60,000 | $100-$150 |
| Differential Service | 60,000 | $75 |
| Fuel & Air Induction Cleaning | 60,000 | $175 |
| Tune-up | 60,000 | $100-200 |
| Tire Rotation | 8,000 - 10,000 | $20 |
*Listed prices and mileage are approximates only. Prices may vary.
For more information or a free estimate,
call today at 303-297-2886
or
click here for an appointment.