Popular Services
Oil & Filter Changes
Mastermind Enterprises offers oil changes from a basic 3,000 mile oil change to a premium 5,000 mile oil change with BG MOA to a 10,000 mile synthetic oil change.
Transmission Services
Mastermind Enterprises offers a simple drain and fill service, transmission flushes, gasket and filter changes and transmission replacement.
Brake, Power Steering & Coolant Flushes
Mastermind Enterprises offers flushes for your brake system, power steering system and coolant system.
Tune-Up
Mastermind Enterprises offers complete tune-up services from spark plug replacement to complete major tune-ups.
Pre-Purchase & Safety Inspections
Mastermind Enterprises offers vehicle inspection services from pre-purchase inspections before you purchase a vehicle to regular safety inspections for the life of your vehicle.
Scheduled Maintenance
Mastermind Enterprises offers vehicle maintenance services, including factory scheduled maintenance and custom service options.
Brake Service & Repair
Mastermind Enterprises offers brake service and repair in Denver, including brake flushes, brake pad and rotor replacement, and complete system re-builds.
Timing Belts & Timing Chains
This is your vehicle's most critical component. We have the tools, equipment, and experience to do it right – the first time with the highest quality parts available. Taking care of your timing belt or timing chain saves you costly engine damage down the road.
Steering & Suspensions
Mastermind Enterprises offers service and repair for steering and suspensions, including shocks/struts, ball joints, tie-rod ends, and rack and pinion/steering gear replacement.
Mastermind Enterprises Referral Program
Over the years our auto repair shop in Denver has grown from referrals from our valued customers. We like to show our appreciation for these customer referrals with our Auto Repair Customer Referral Bonus Program. Every time you recommend a new customer to us using our business cards, we will reward you with 10% off your labor on your next service or repair, after the new customer uses our services. (We are sorry it cannot be combined with any other offer.)
We appreciate your patronage and realize that a referral from you is the highest compliment we can receive. We work hard to provide quality automotive service and repair in Denver. if for any reason you or someone you know is not happy, please let us know so we can correct the problem. You may let us know of any concerns you may have by emailing us or by giving us a call. Also, if you have a story or a testimonial you would like to share with us and our customers on our website, please call us at 303-297-AUTO (2886) or email us.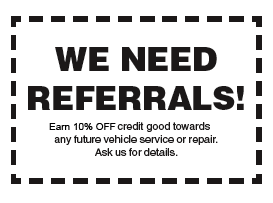 Thank you for the opportunity to earn your business!
We look forward to serving you! Have a blessed day!
Call Today! (303) 297-2886