What is the Difference Between Maintenance and Repair?
Basically, maintenance is what you do to maintain an item and keep it running in top condition. Repair is something performed when an item breaks, usually from not being properly maintained.
Let Mastermind Enterprises Auto Care maintain your vehicle and give you peace of mind. Every vehicle requires maintenance but you as the owner decide what your car receives. Maintenance is essentially preventative care for your car. Repairs are a form of "breakdown maintenance."
Following a maintenance schedule may seem costly but in fact, the benefits of maintenance over repair are cost-saving. Think about this - when you schedule oil changes on a regular basis, the service is done on your time and you are prepared financially. If your car breaks down, chances are you don't have the time or the money to deal with it.
With proper maintenance you help maintain your vehicle's factory warranty*, prevent unexpected, costly repairs and inconvenient breakdowns and prolong the life of your vehicle. Factory recommended maintenance is provided for every vehicle. Many of these maintenance issues are associated with your safety, too!
With each oil change, we provide a complimentary visual inspection looking at a few of the main areas of your car that require consistent maintenance including:
Conditon of Brakes
Fluid Levels
Timing Belt & Water Pump
Air Filter
Mastermind Enterprises offers a flat-rate towing service through our towing partner. We also provide customers with rental cars. From your initial phone call, until you pick up your car, we take the time to explain what is wrong and what repairs are needed. All the work that needs to be done is separated from the work that can wait or is nonessential. We can explain the options and make specific auto repair recommendations. We also explain all parts and labor charges, and if applicable, list the work that you should plan on having done at a later time.
We know that your vehicle plays a vital role and an intricate part in your daily life. Therefore, we minimize your vehicle's and your "down" time. In most cases same day or next day auto repair and service is available (subject to parts availability). At Mastermind Enterprises, we believe that the more efficiently we run our auto repair shop, the better service we can provide to you, our customer.
We stand behind all work that we perform. We offer a 24 Month/24,000 Mile Nationwide Warranty on auto repairs. If an additional warranty applies to a part, Mastermind Enterprises will honor the manufacturer's warranty, too. Warranties will be explained to you upon request and/or at time of your auto repair. For an appointment or free estimate, click here, call us today at 303-297-2886 or bring your vehicle in anytime using our 24 Hour Key Drop.
*Did you know that in most cases your vehicle warranty is rendered null and void if you don't follow the factory recommended maintenance schedule? Talk to us today to evaluate your car's maintenance schedule and repair needed.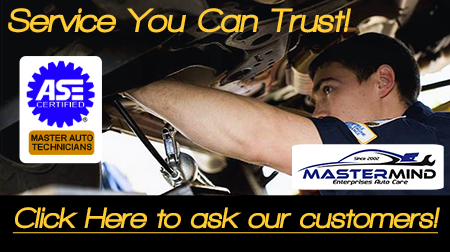 Save Money Down the Road
For any vehicle owner, the difference between auto maintenance and auto repair is critical to ensuring a long and healthy life for their preferred method of transportation. Both are essential in the smooth operation of a vehicle, but the terms are often confused for one another, which can lead some owners to pay more than they should over time.
Auto maintenance is a basic term that covers regular and preventative steps taken to keep a car that is running properly stay running its best. This maintenance can include things such as routinely scheduled services, oil changes, transmission flushes, coolant flushes, annual inspections. tire rotations, and part replacements that your vehicle manufacturer recommends based on the age or mileage of your vehicle. All of these services help to keep a car that runs smoothly stay that way, and help prevent the need for major auto repair down the road.
Auto repair is what is required or necessary when a vehicle has a failure of some kind, is not working properly, or something is worn to the point where replacement is required. Auto repair can be a cracking or broken fan belt, failed spark plugs, fluid leak, steering issues or braking problems. In these cases, it is necessary to repair or replace damaged parts in order to make a vehicle road-worthy once again. By ensuring regular auto maintenance is performed on your vehicle, you can lower your need for auto repairs.

Services We Offer
Engine Diagnosis & Repair
Computer Diagnostics
Factory Scheduled Maintenance
Battery & Alternator Replacement
Oil Changes & Fluid Level Checks
Filter Changes (Oil, Fuel, Air, Cabin)
Tune-Ups, Belts & Hoses
Timing Belts & Chains Replacement
Brake Service & Repair (including ABS Systems)
Steering & Suspension Service & Repair
Ball Joints & Bushings
Shocks & Struts Replacement
Clutch & Clutch System Repair
Heating System Service & Repair
Cooling System Service & Repair
Radiator & Water Pump Replacement
Air Conditioning Service & Repair
CV Axle (Joint) Service
Transmission Service & Repair
Transfer Case Service
Axle & Wheel Seals & Bearings
Safety & Pre-purchase Vehicle Inspections
Differential Service & Repair
Electrical System Diagnosis & Repair
Starting & Charging Systems
Exhaust Replacement
Mufflers & Catalytic Converters
Emission Failure Diagnosis & Repairs
Fuel Pumps & Fuel System Service & Repair
Engine Replacement with 3 Year Warranty
Transmission Replacement with 3 Year Warranty